Firefox3 came with so called awesome bar. When I was young, I was taught: don't praise yourself, if you are worth it, others will do, if you are not, you may make people laughing (and referred to Luke 14:7–11).
But it inspired me to write about some other bar, which in my opinion really deserves to be called awesome. This one: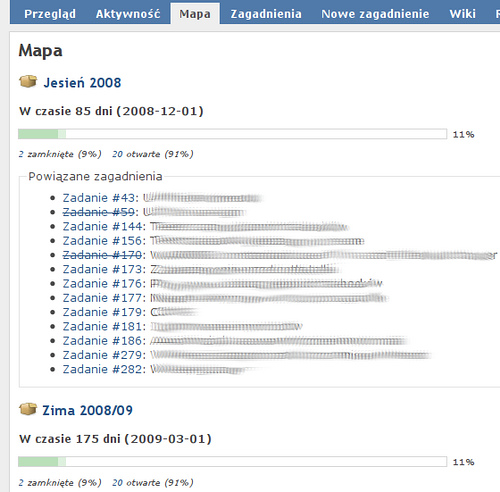 I find this narrow rectangle – which fills with the color while bugs are fixed and issues resolved – to be one of those tiny ideas which make difference. It does not bring any new information comparing to all those usual bug lists.
But it is of great psychological value.
First, it gives some continuous feedback that the project is progressing – even if there are a lot of boring tasks and one can't release that often. Everytime I fix a bug I see that bar filling a bit more. It makes me sure I am going closer and closer. Really helps to stay motivated.
Then, it shows the progress towards the next release. Issues scheduled for future versions, bugs classified as less urgent, possible enhancements are assigned to other versions. I don't feel overloaded by myriads of bugs anymore.
I am not sure who invented this bar. Most likely one of Trac authors as it has been present in Trac for years. The shot above is taken from Redmine. Similar pictures may be found in Unfuddle, Lighthouse, WIT and some other tools.
Nice to have!