New WatchBot feature: Atom feeds are now available, so one can use RSS reader to be notified about new games.
The following feeds are available:
interesting games,
player-specific games.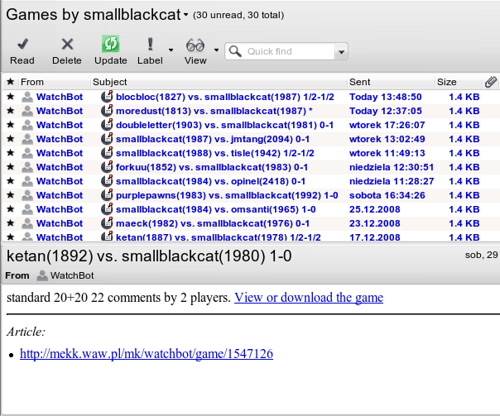 Interesting games feed
Interesting games feed notifies about games somewhat arbitrarily picked as interesting (currently the game must be slow time and contain some comments to be classified as such) - those are the same games as the games shown in the Recent games sidebar.
To subscribe: visit main watchbot page, or any other page, and either click the RSS icon in the browser bar, or the RSS link below the recent games in the sidebar.
Player games feed
It is also possible to subscribe to specific player - and be notified about his (or her) games.
First method: visit the player search screen, enter the name of the player, click Enter. Feed link will be available on the result page - both in the browser bar, and right to the title.
Second method: while viewing any game of given player, click the feed icon in the browser bar. You will be offered both the interesting games feed and feeds of both players.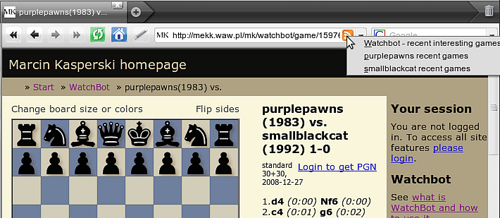 Other possibilities
I am open to suggestions about other notification feeds which could be useful.